Favorites
Favorites at Eggs 'n Things Ala Moana
Strawberry Cheesecake
Waffle Fold
$13.00
Fresh Pineapple Whipped Cream Pancakes
$13.00
Traditional Loco Moco
$11.00
Portuguese Sausage & Eggs
$10.00
Latest News
Get the latest news, updates and specials!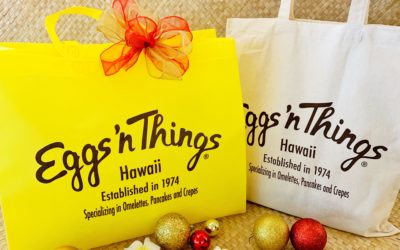 For New Year's Eve and New Year's Day, our business hours will be changed. *Saratoga Flagship 12/31/2018 : 6:00am - 2:00pm( Retail store from 7:00am - 2:30pm) 1/1/2019 : 7:00am - 9:00pm *Ala Moana 12/31/2018 : 6:00am - 7:00pm 1/1/2019 : 7:00am and normal operations...
read more
About Us
Serving quality food and the spirit of Aloha is what we do best.
Breakfast and other local favorites are served into the evening and that is another reason why Eggs 'n Things is so loved.
Shop
At our Saratoga location, be sure to stop by our retail shop on the ground level. We sell our buttermilk pancake mix, syrups, eco-bags, T-shirts, baseball caps and much more.