Our popular Valentines Special Pancakes are back again this year at all 4 of our Oahu locations (and our 1 Guam location) for a limited time, starting Friday 2/12 through Monday 2/15!
" Dark Chocolate Mocha Cheesecake Pancake with Fresh Strawberries and Whip Cream ($13)"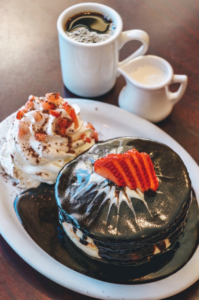 3 pieces of our original buttermilk pancakes with white chocolate chips have layers of the special Cheesecake Sauce in between, and generously drizzled on top is decadent Dark Chocolate Mocha Sauce. The bittersweet Dark Chocolate and the aromatic Mocha is the perfect marriage with the Cheesecake sauce and Whipped Cream. To make it extra special for this occasion,  we've topped them with Fresh Strawberries.
We hope to see you at Eggs' n Things with your special someone this weekend! Or, you can always opt for to go or for delivery such as Uber Eats
You can place your order to go from below:
Our Ala Moana Location:
https://orderstart.com/eggsnthingsalamoana
Our Saratoga Road Location:
https://orderstart.com/eggsnthingssaratoga
Our Waikiki Beach Eggspress Location:
https://orderstart.com/eggs-n-things-eggspress
Our Koolina Location:
https://orderstart.com/eggsnthingskoolina